About Peltierkoeling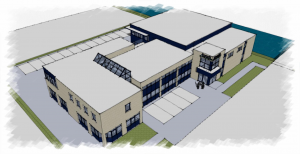 Peltierkoeling.nl is part of Alflex Technologies and offers cooling solutions by making use of the Peltier effect. The principle is based on a semiconductor (Peltier module) that transfers heat from one side to another. Simply put it's an electrical heat pump. Environmental impact by using coolants and compressors are not needed with this principle. This results in compact, sturdy and maintenance-free cooling systems.
Peltierkoeling.nl supplies complete coolers (assemblies). These coolers are available in various cooling principles like Air-to-air, Direct-to-air and Liquid-to-air. Within these principles there are different variaties regarding cooling power, dimension, type and power supply. Our coolers are being used in many diverse industries and applications. They are usually installed in equipment or instrumentation cabinets.
Coolers from Peltierkoeling.nl are designed and manufactured in our factory based in The Netherlands. They have a good price to quality ratio and 2 years warranty.
Besides complete cooling assemblies Peltierkoeling.nl also supplies single modules (better known as Peltier elements). This gives the oppertunity to decide where the module can be placed for your application. The Peltier modules are also able to be used as a heating device by reversing the polarity.
More often Peltier modules are used for thermal cycling processes. Using the 'Seebeck-effect' the Peltier module is also capable to convert a temperature difference to an electrical current. This can be used as stand-alone power source for powering wireless sensor-networks (WSN) when there is enough temperature difference available.
In addition to cooling assemblies and Peltier modules, we also supply a wide range of accessories for our thermal-electric coolers like temperature controllers, sensors, precision thermostats and digital panel meters.
If you are interested in our heating solutions, please check our dedicated site: www.flexheaters.nl (currently only available in Dutch).
If you are interested in our solutions, please don't hesitate to contact us.