Air-to-Air coolers for cooling control cabinets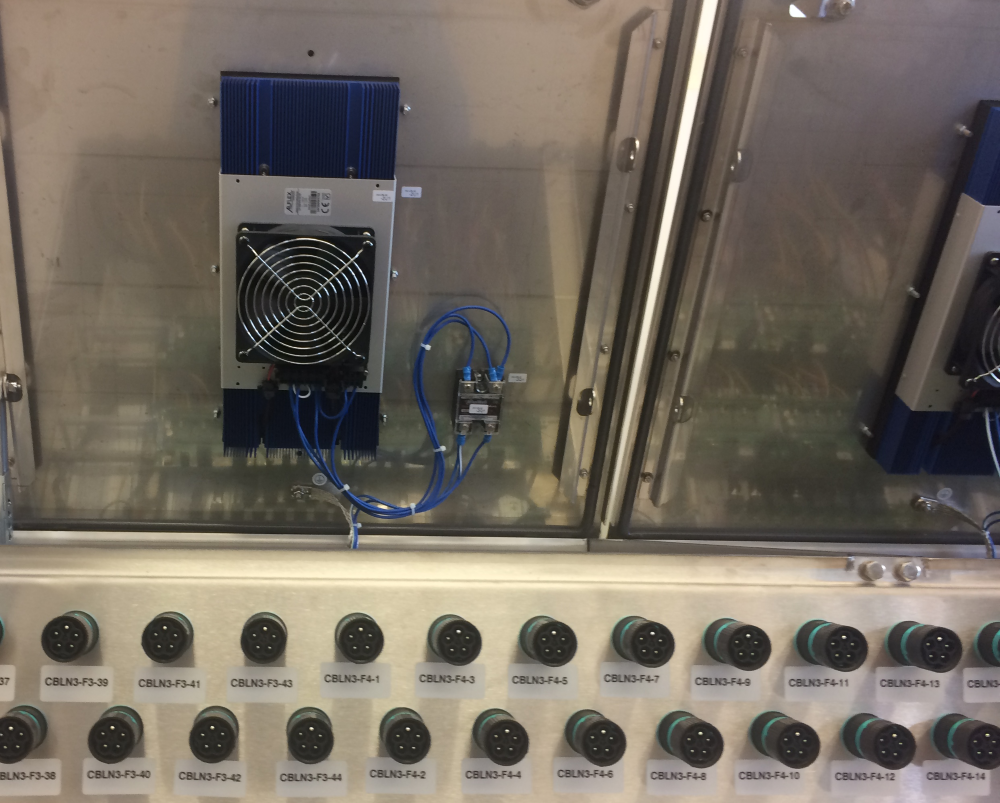 Vekoma Rides Engineering B.V. contacted Peltierkoeling.nl on behalf of Dutch Wheels for cooling control cabinets of Ferris wheels. Vekoma designs and manufactures all kinds of attractions such as Ferris wheels and roller coasters. Their attractions can be found all over the world in various amusement parks and in all types of climates.
Heat calculations of the control cabinet for Ferris wheels in Dubai showed that the cabinets would become to hot, when not actively cooled. Conventional methods like fans and liquid cooling were not an option, because the control cabinets are placed in the rotating part of the Ferris wheel. Vekoma therefore chose for a maintanence free cooling solution based on Peltier-coolers from Peltierkoeling.nl.
Because of the extreme conditions in Dubai and cooling requirements, the use of a standard cooler would not be sufficient. A fast delivery was on the other hand necessary. Therefore a custom made solution was needed, based as much as possible on our standard cooler, so we could fulfill the desire of a short delivery time.
Changes made to the standard cooler include:
IP68 fan on the hot side of the cooler
Sealing of all feedthroughs and holes for a waterproof assemly
Corrosion resistant
After a successful test the control cabinets are ready for use in Dubai and its hot climate.
Alflex Technologies looks back on a successful collaboration with Vekoma and we hope to see our coolers back on more attractions.