Peltier cooling for cooling a gastight cabinet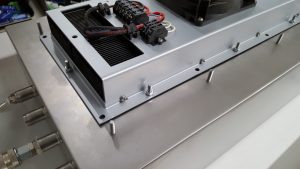 Our customer designs and produces optical sorting machines. Various foodsare sorted using high-tech camera and laser technology. The machines are used worldwide.
The housing of the technology is gastight. There is nitrogen with a slight overpressure (40mBar) in the cabinet. However, the heat that the laser and cameras develop must be dissipated so that the components remain within the operating temperature. Peltier cooling based on an air-to-air system is extremely suitable for this. Adjustments need to be made to make it completely gastight:
Sealing all screw and thread passages on the inside
Custom insulation material
Custom-made fan bracket on the hot side so it seals all around the cooler
During the prototype phase we developed a test cabinet to verify the gas tightness. We now produce the coolers on a large scale and use the test cabinet in our QC to test the gas tightness.
At 40mBar overpressure there may only be a loss of gas pressure of 5mBar/hour. Our QC does the test at a pressure of 50mBar. The measured pressure loss after production is always below 2mBar/hour and therefore more than meets the customer's requirements.
We use the gas leak tester (DGT) from Imbema Denso for pressure measurement. Alflex Technologies designed the DGT and produces it on behalf of Imbema Denso.
We look back on good cooperation with the customer to solve the challenges of this project. Moreover, it is fun to use the gas leak tester designed and produced by us. This shows that the diverse disciplines within Alflex Technologies come together well.