Custom cooler for the NLR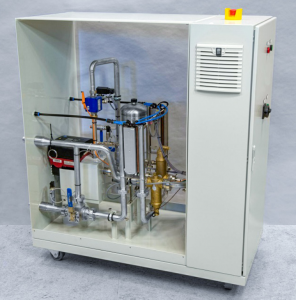 Alflex Technologies started a colaboration via Peltierkoeling.nl with the NLR (Dutch Aerospace Centre) to develop a thermo-electric cooler used in a high precision chiller. The chiller can cool down water to 5°C that has a flow rate of 70L/min. The precision is very impressive: ±0,0005°C.
The cooling power needed to achieve this is around 600W. To achieve a short lead-time and cost effecient soluation we've used, where possible, the parts of our standard cooler models. The very critical fabricated liquid part was supplied by the NLR. This liquid part is "sandwiched" between our coolers. With this assembly a cooling power of 800W was realised.
The chillers have the following properties:
Extreme high stability and accuracy (±0,0005°C)
Virtually vibration-free
Very low noise production
Adjustable via a web interface
Up to 27 external temperature sensors (NTC) can be connected to the system
We look back at a very pleasant colaboration with the NLR for this very challenging and impressive project! The datasheet of the chiller can be found here.